Our experts can manage your LED project from beginning to end with everything included in one bill. We even have options for financing to get your project started today with no money down. If you simply need to buy an LED product you can always trust that Ortiz LED Solutions will offer the highest quality products at the most competitive prices available with free guidance from an industrial engineer who specializes in LED technology.
At Ortiz LED Solutions it's not about selling LED lighting; It's about creating long term savings and value for our customers through energy improvements and intelligent green practices based on facts and our extensive knowledge of LED lighting and engineering.
We confidentially stand behind every product and solution we sell because we quality test a sample of each item on our R&D workbench. Any LED product we sell has passed our Industrial Engineer's rigorous quality testing standards. Testing includes: Inspection of internal wiring, solder joint inspection, component study (quality of materials), light output, color temperature, CRI, true lumen output, and much more. Our background is in manufacturing and we understand your decision to choose LED lighting is not just another business purchase, it is an investment which will reduce your operating costs and help you increase your bottom line for years to come.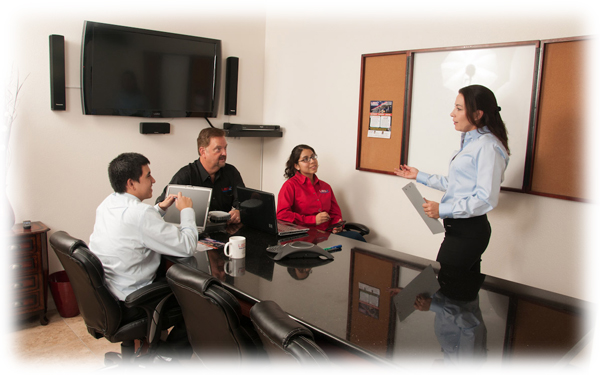 Co-owner and in-house LED expert, Wayne DeCamp earned his degree in industrial engineering from the University of Nebraska at Kearney. Wayne is a Six Sigma Green Belt who set himself apart as a leader in sustainable business practices. He was responsible for creating a 325,000 square foot building in Akron, Ohio, which was acknowledged as a model of energy efficient design. Wayne recognizes there is always room for improvement in business processes. He prides himself in his ability to help business owners discover measurable improvements in their facilities and procedures to realize significant cost savings while creating a more sustainable business.
Co-owner and efficiency expert Araceli Ortiz understands you need a solution driven provider whom your company can depend on before, during, and after your LED project. Araceli managed the largest distribution facility in the United States for the country's largest manufacturer of curbside collection containers, Toter Inc. She has extensive experience managing successful large scale projects and has lead teams which continually excelled over their competition. She knows delivering superior customer service is impossible in a transactional sale. That's why she conducts all business with the motto, "Cuentas claras amistades largas" "Long friendship – Clear accounts". Ortiz LED Solutions' customers are not seen as sales accounts, they are respected as mutually beneficial long term business relationships.
Ortiz LED Solutions is recognized as:
PG&E Trade Pro
Customer's Authorized Agent with SCE
LED Passport Certified (Philips Lighting)
LED Associate Certified (Philips Lighting)
LED Professional Certified (Philips Lighting)